Are you ready for Super Bowl Sunday? Are you having a party or will you be traveling to a friend's home? Either way, these are perfect for nibbling while watching the big game!
I love poppers, but am always looking for new ways to enjoy my favorites. This is a twist on jalapeno poppers, which you can make as hot and spicy (or mild) as you choose, just by adjusting the amount of peppers. You may use canned, which I find to be more on the mild side or you can use fresh jalapenos. No matter the heat level, these are easy and require little effort and they will disappear!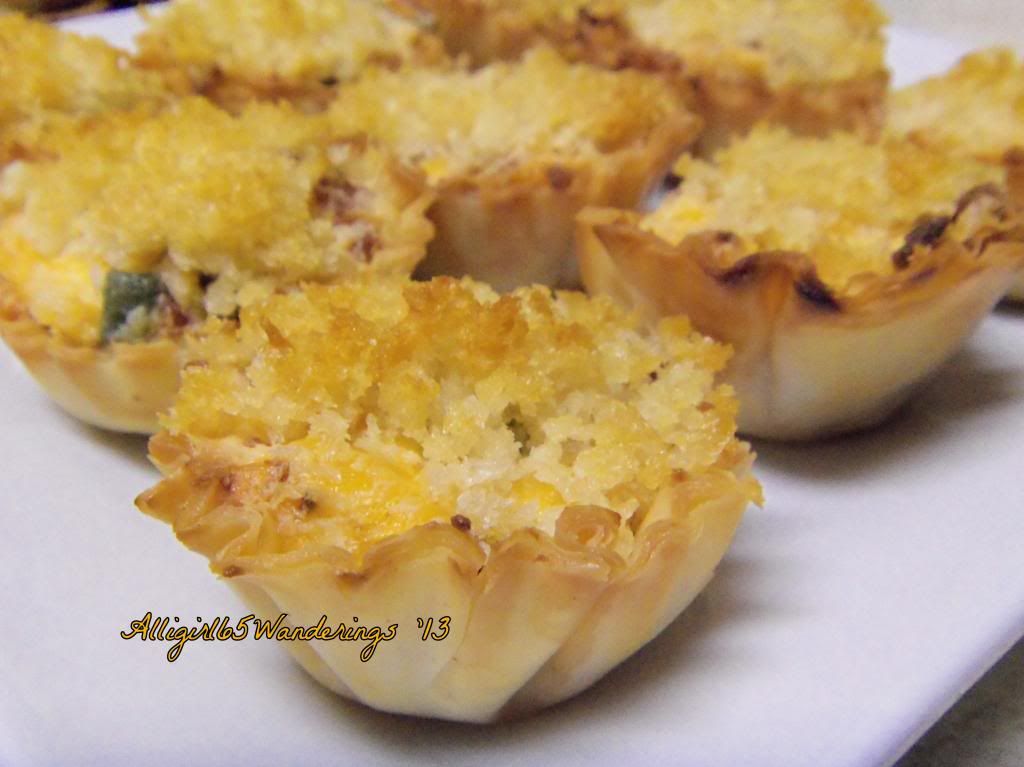 Crunchy Poppers in Phyllo Shells
4 oz. cream cheese, softened
3 slices bacon, cooked and chopped
1/2 cup shredded cheddar cheese
2 oz. chopped jalapenos (canned is fine, or use a fresh one for some
HEAT
)
1/2 tsp. seasoning (use any all purpose seasoning you favor- I like Emeril's Original Essence; you could use Mrs. Dash or greek seasoning, etc. )
1/2 cup panko crumbs
1 tbsp. butter, melted
1 15 ct. package of Phyllo Shells
Mix cream cheese, bacon, cheddar, jalapenos and seasoning; divide among phyllo shells. Mix panko crumbs with melted butter and cover the filled shells. Bake at 350º for 20 minutes. ENJOY!
Go ahead and try it -you know you want to... ;-)
Thanks for stopping by~
Alli